This Fakemon has been approved to be in Project Hiatu. Please do not remove this template. Only Kitsukitty, and admins may erase this template.
#001 - Mimibud
Edit
#001 - Mimibud (ME-ME-BUHD)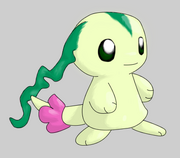 When excited, MIMIBUD like to stretch out the green leafy streamers on their heads.
Little is known about its evolutions.
The name Mimibud is a mixture of the two words, miniscule (mini-, with an m), and bud (Bud). This is referring to Mimibud's tiny size, and the fact that it represents a small, developing flower
Ad blocker interference detected!
Wikia is a free-to-use site that makes money from advertising. We have a modified experience for viewers using ad blockers

Wikia is not accessible if you've made further modifications. Remove the custom ad blocker rule(s) and the page will load as expected.